We offer consulting services to culinary professionals around the world
Our most in-demand expertise is developing ice cream formulas for artisanal shops and pastry kitchens. We solve problems, improve quality, adapt formulas for specific challenges, and offer customized versions of ideas from our blog.
We stick to one specialty: helping you make the best product possible.
There are many consultants who will advise you on business plans, equipment maintenance, financing, hiring.
If you're looking for these services, we can help point you to someone.
If you're trying to make world-class ice cream, you're in the right place. 
See the difference:
This chocolate ice cream recipe is published by a prominent consultancy.
The Underbelly formula is custom-made around the chocolate; it doesn't use a one-size-fits-all base. It's egg-free, as chocolate formulas should be. It uses blends of sugars, dairy and stabilizers specifically designed for the textural challenges of cocoa butter. It's calculated precisely to maximize both texture and vibrant flavor release. And it pushes the limits of reasonable chocolate concentration in ice cream.
We perfected this formula during 15 trials, using the best single-origin chocolates and cocoas available.
This formula represents our vision of perfection. We share it freely. What we offer as consultants is a scientific process to bring YOUR vision to perfection. 
If you're thinking that not every market can support this level of ice cream (or this level of anything), you're absolutely right. Our approach is designed primarily for chefs at the kinds of restaurant where the wine list pays the bills. Nevertheless, our clients have often been ice cream shops who insist on making their product by hand, constructing recipes on a per-flavor basis for customers seeking something special.
We're available for big and small projects, and would love to hear from you.
I highly recommend Underbelly's consulting services! Before I've opened my ice cream shop I finished courses in Italy and the US. The courses were great and they gave me a lot of theoretical knowledge but when I was back I've realized that theory is not enough to make ice cream. I tried my best for weeks but something went wrong. That was when I came across with Underbelly's blog and contacted them. Tons of helpful information, advice on recipe balancing, igredients and flavors, new ideas and what's more important – huge support. I can hardly express how grateful I am and what a big role this support and consulting played in my business! Thank you so much and all the best!
—Nata Shchinska
The Cone Culture, Tbilisi, Georgia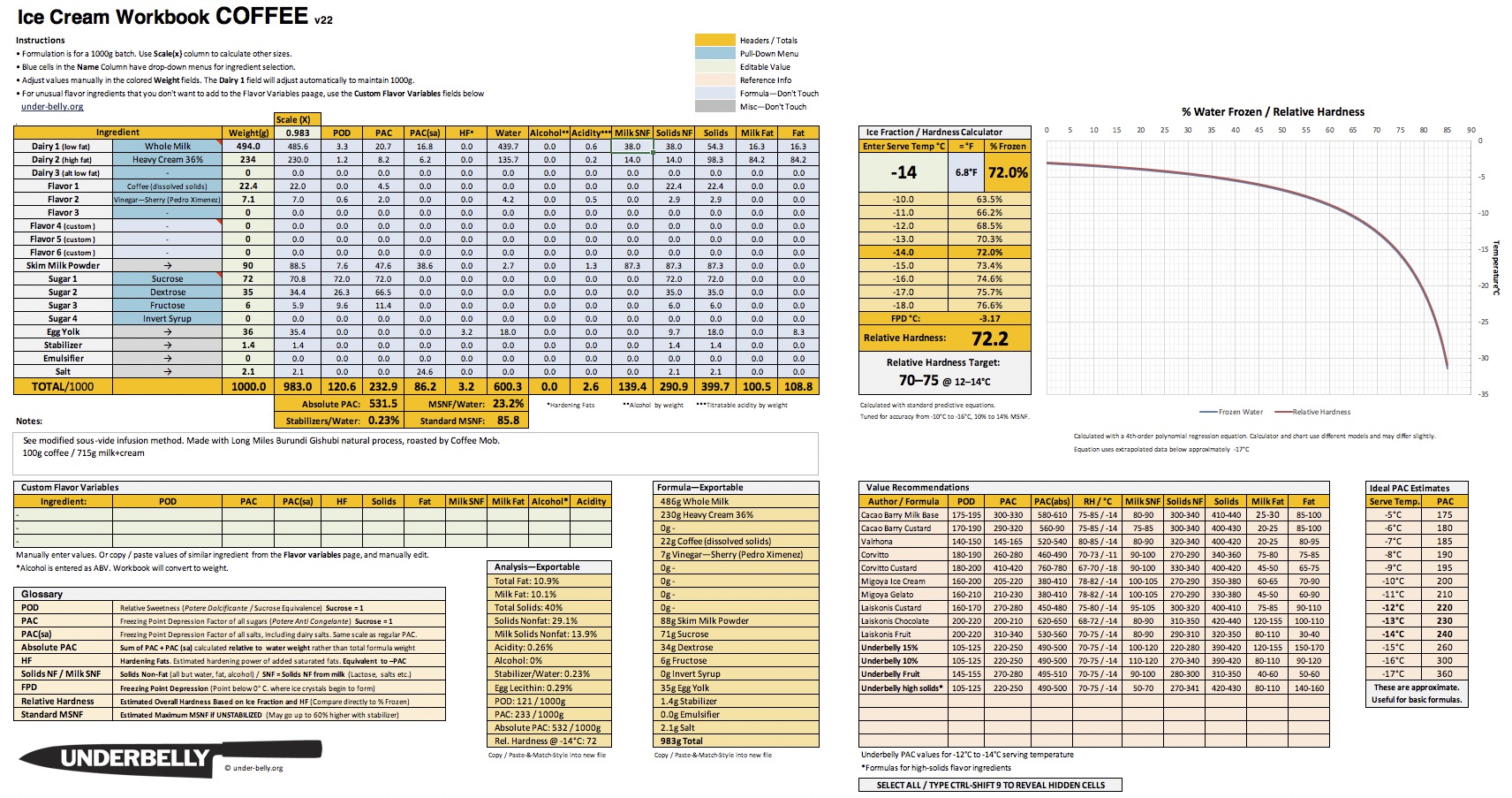 We have translated our theoretical knowledge into a collection of home-coded software tools. In the time it used to take us to calculate a single formula by hand, we can now work through dozens of iterations. We can can quickly build a unique recipe with the exact qualities you want.
We've had request like, "We want a dense texture like Ben & Jerry's, but with a smoother, longer melt, and a less oily mouth feel. We have gum arabic and guar, but no locust bean gum or carrageenan. Also, we can only get goat milk." We're happy to work with this! We probably won't get it perfect with the first draft, but we will get very close. And we know how to use your feedback to get closer.